VE Furniture's new modular Link Taper Desk, which launches in December, represents an evolution in modular classroom desk design. These modest, contemporary desks are ideal for collaborative learning due in part to their sleek construction, ample surface area and modular flexibility.
The Taper Desk's unique surface creates an unlimited number of possibilities, giving educators the option to quickly place, reconfigure, and move desks within the classroom or between learning spaces. In the new educational world where flexibility is key, the Taper Desk makes it easy for easy for schools to design classrooms for now and later.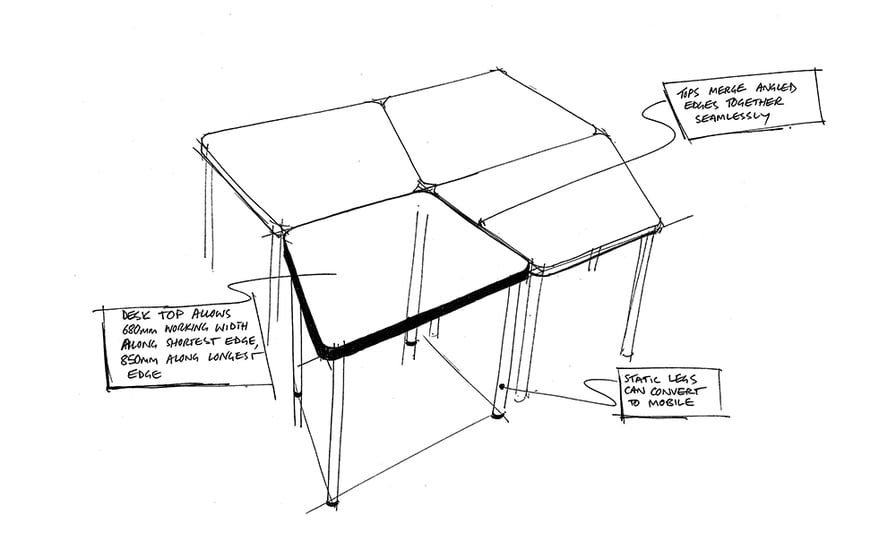 The desk's sleek form is completed by iconic VE Furniture details such as circular legs and pill-shaped braces, while the lightweight frame offers ease of movement allowing students to shift smoothly from individual learning to collaborative groups throughout their day.
"We considered how we can apply the learnings from our popular Podz Table Range, which has similar modular properties but at a smaller scale," says Adrian Lim, VE Furniture's Head of Design. "Its inherent cohesiveness and beauty is due in part to its combination of functionality, style, and classroom practicality."
By creating a single user desk that links together to create collaborative huddles, the Taper Desk future proofs learning in a post-Covid world. The modular design is so light and easy that it eliminates the headaches (and expenses!) that traditionally come with purchasing individual desks.
Checkout more tips for creating a Collaborative Learning Classroom
---
Acting as the core of a brand-new Link System, Link Taper furthers VE Furniture's collection of flexible and intuitive furniture designed for modern classrooms and the way students want to learn. Keep your eyes out for the launch of the Link Desk, coming December 2021, and stay tuned for more insider info about the Link System.